BBC UK:
How do you invent a new sport?
BBC published one again an article of Bossaball, after their report from the BBC Breakfast Show where Mike Bushell visited our Bossaball training centre Sport Box in Utrecht. The BBC decided to make this report due to the impact on social media of our new sport during our tournament at The Rio de Janeiro Olympics on the famous Copacobana beach.
This time they introduce Bossaball conceptually as a way to show people how can it be scaping out of the comfort zone taking the risk of making something new and the process that it takes.
It's impossible to remember a time when cricket or football didn't exist, but they had to start somewhere.
The International Cricket Council (ICC) traces the first official reference to the game in 1611. Football goes back even further, with evidence of it being played in China more than 2,000 years ago.
With centuries of tradition behind them, neither has to worry about establishing itself in terms of participation or fan numbers. But what if your sport is new – as in 21st-Century new? How do you get people interested when there's no tradition to fall back on?
The birth of Bossaball
Recife, Brazil, was intended to be just another stop in Filip Eyckmans's musical career. It was 1995, and he was enjoying his time as manager of dEUS – a band from his native Belgium.
In Recife, football fan Filip saw different types of exercise – from volleyball players on the beach, to the acrobatic moves of those practising the Brazilian martial art capoeira. It was then that an idea blossomed: football, volleyball and capoeira – along with some gymnastics – had the potential to be combined into a single game.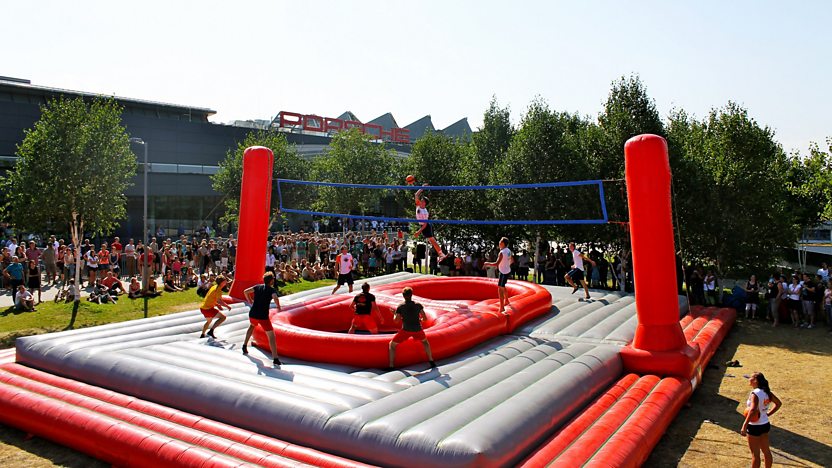 Named after the Bossa Nova music Brazil is famous for, Bossaball takes place on a huge inflatable playing area. At first glance, it appears to be a bouncier version of a volleyball court, with its high net stretched across the middle of the field of play. Built in to the court is a pair of small, round trampolines, either side of the centre line.
Players use a combination of volleyball, football and gymnastic moves to get the ball over the net and into the opposition's area to score points. Use a football move to score and more points go on the board. Extra points are also secured by scoring from the trampoline. Music has a big part too: tunes are played throughout the game; kicks, moves and rallies tend to be in time with the beat, incorporating somersaults and backflips to add to the spectacle. The referee doubles as the DJ.
Filip modelled a court from clay, then turned it into the real thing. When that was ready, he continually refined the rules of the game. For example, the number of moves each player is allowed while in possession of the ball before it must be sent over the net was reduced from eight to five.
Already in 2015 the BBC Travel Show with Chista Larwood came to visit us at our main training centre which is located in Estepona, Málaga, in the Costa Del Sol. The Travel Show made a report showing the most atractive sites of Estepona along with a visit at The BossaLab centre where they showed a bossaball training session and our new process on recycling old pvc into brand new bossaball merchandise.
Ready for the world
"Beach volleyball lacked good rallies," Filip, a former professional tennis player, thought. "It lacked midfield play. That's why I added soccer to Bossaball. Then I remembered from gymnastic class at school, the thing I really enjoyed was the trampolines. Probably because we were able to use them twice a year." So, in went the trampolines.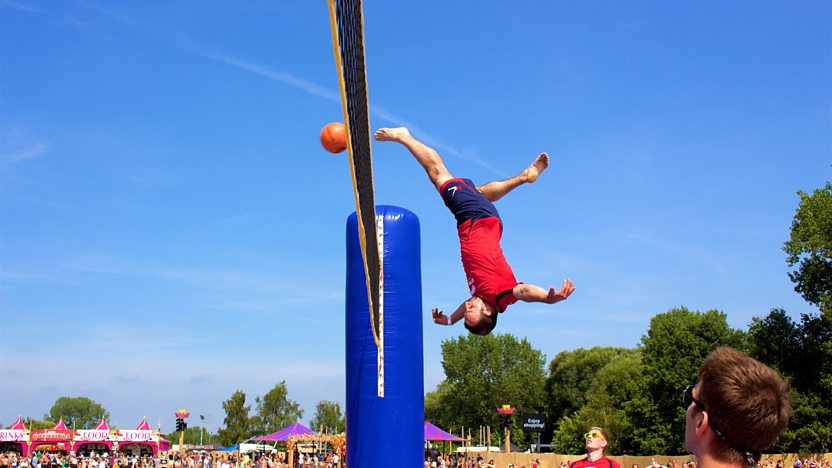 He continued: "It took us from 2005 to say, 2008 or 2009 to get all the rules done. I don't think we can improve on the rules now. The equipment took one year to finalise, with several tryouts."
But getting a sport to become known can be challenging. Filip worked to get Bossaball courts into large music festivals, but he admits that getting the Dutch Volleyball Federation involved was a turning point. When the Netherlands hosted the World Beach Volleyball Championships in 2015, a Bossaball tournament was included in the programme.
Bossaball marked its 10th anniversary in 2015. Over the past 15 years, there have been more than 10,000 events in more than 50 countries. A highlight was being part of the 2016 Rio Olympics, not as an official sport, but an activity on Copacabana beach, which saw the game return to its roots. Filip's team has also worked alongside the United Nations and the prison service on projects connected with the game.
But he still doesn't feel it's quite broken through as a sport. Colombia, Netherlands and Singapore are among the most passionate Bossaball nations at the moment, with Netherlands and Belgium currently having eight clubs which play in a league. There are currently no Bossaball courts in the UK, but Filip is taking a quality-over-quantity approach: "It's better to be good in four or five countries than average or bad in 29."
The laws of invention
Creating a sport isn't just about building a player base – patents also comes into it. A spokesperson for the Intellectual Property Office (IPO) explained to BBC Bitesize that the name of a sport can be trademarked in the UK – recent examples are Zumba, Boxercise and Spinning. Rules of the game can't be trademarked but they can be protected by copyright, and revisiting them over time also keeps them in copyright.
Anything unique to a new sport in terms of equipment can be trademarked. The IPO has seen patents registered for wetsuit technology linked to triathlons, with many more for equipment linked to rugby and cycling. The UK is also number one in Europe for patents regarding sports-adapted wheelchairs used in the Paralympics and other events.
In the 15 years since Bossaball went public, Spain-based Filip has had his own experiences with intellectual property law. Copycat versions of his sport began popping up in other territories. Without the official involvement of Bossaball at these events, he has raised concerns over the quality and safety of inflatable courts used in events run without their licence. The "FIFA of Bossaball" (as he called himself), he oversees the granting of each official licence to ensure everything meets his standards.
That forensic attention to detail means it may take some years before there's a Bossaball court on every continent, but he is happy to wait for now, and even play the occasional match.
"I still have a go myself," he said, "but I'm more on the phone and on the computer these days than on the court.
"I may become the first veteran Bossaball champion."
As so many other new sports concepts, bossaball suffered intensely the covid 19 pandemic with hardly any events for 2 years but towards the end of 2021 appaers to have found a new launch with succesful events in Argentina , suppoorted by TNT Sports and their appearence at the Medellin Expofitness fair in Colombia. New licenses for 2022 are signed in The Middle East and a possible participation during the Qatar Wolrd Cup soccer is in full negotiation.
Not only the BBC Breakfast show covered us as the year before we had a visit from  theBBC Travel Show where Chista Larwood came check out our main training centre which is located in Estepona, Málaga, in the Costa Del Sol. Several touristic sites in Estepona were highlighted and at the bossaball training centre they witnessed how we are converting the old bossaball courts into brand new recycled merchandise bags.

Bossaball isn't the only new sport invented in recent years. How many of these have you heard about?
FootGolf: This combination of football and golf involves kicking a ball across a course and into a cup in the lowest number of moves possible. It's a version of a game which began in the USA in the 1920s and 1930s and became popular in Europe in around 2009. The only piece of equipment required is a regulation football.
Earthing: Running and swimming come together in this sport which is all about speed. At the end of a 60m sprint, participants launch themselves into an adjoining 50m pool. The competitor who touches the wall at the far end of the pool first is declared the winner. The transition from track to pool is key.
Slamball: It's not just Bossaball which involves trampolines. This takes them and integrates them with basketball. Slamball was popular on American TV for a time in the early 21st Century.