Rexona

 
– 10 times more protection playing bossaball
Rexona, the world´s best-selling deodorant brand, held a one-week promotional tour featuring our demonstration players in Mar del Plata, a beautiful beach on the Argentinian coast.
The tour which combined shows from our players and clinics led by our instructors enabled Rexona to expose its newest product and invite people to try their new protection technology during an intense session of bossaball in the Argentinian summer sun. The results were successful for everyone as the brand received the customer satisfaction they were hoping for while we got to share our game with the energetic, enthusiastic and talented Argentinians, resulting in another successful promotion of our sport and its flexibility.
The efforts put by Bossaball Argentina in player development are paying off and are leading to many benefits. The tour was organized with a large majority of local demonstration players, what facilitated the interaction with the public and benefited Rexona in regards to their promotional activities. Moreover, having players in South America that are able to showcase the game of bossaball is a great asset for the development of the sport in the continent where it was conceived.
We are proud to have associated our name with Rexona, a brand owned by the personal care products world´s market leader, Unilever. Check out the promotional video made of the tour made by our partner!
Press article regarding the Rexona brand activation:
Rexona, Bossaball y Mar del Plata
Un deporte que te hace saltar 10 veces más y exige más protección
A través del lanzamiento del Nuevo Rexona Antibacterial, Rexona estará presente en diferentes paradores de Mar del Plata desde el viernes 23 hasta el jueves 29 de enero -con excepción del lunes 26-  y le ofrecerá al público una propuesta diferente, desafiándolo a superar sus límites al participar de los torneos de Bossaball.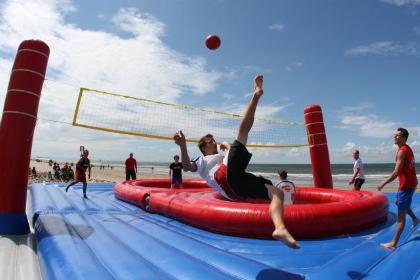 El Bossaball es un juego que mezcla vóley, fútbol, capoeira y los mejores saltos al ritmo de la música. Junto a profesionales destacados, Rexona desafiará a los participantes a que superen sus límites, salten 10 veces más, y ganen premios sintiéndose seguros y protegidos con los beneficios que brinda el Nuevo Rexona Antibacterial, un antitranspirante que ofrece 10 veces más protección contra las bacterias* que causan mal el olor.
Los torneos de Bossaball se realizarán de 14 a 18hs en los siguientes paradores:
-23 y 24 de enero en PLAY BEACH (Av. Martínez de Hoz 4760)
-25 Y 27 de enero en MEDITERRÁNEO (Balneario N°20- Complejo Punta Mogotes)
-28 Y 29 de enero en PUERTO CARDIEL (Av. Felix U. Camet 400)
Sobre el Nuevo Rexona Antibacterial:
Es un antitranspirante  que ofrece 10 veces más protección, contra las bacterias* causantes del mal olor. Este nuevo antitranspirante ofrece sus beneficios a través de dos ingredientes principales: el activo antitranspirante y el sistema de fragancia con su exclusiva fórmula MotionSense™, tecnología de fragancia encapsulada activadapor el movimiento del cuerpo, manteniendo la piel limpia y fresca todo el día.Nuevo Rexona Antibacterial viene en presentaciones para hombre y mujer y está disponible en los principales hipermercados, supermercados, perfumerías, farmacias y autoservicios de todo el país.